B
Terrace and stair waterproofing
PMMA renovation of a terrace complex with architectural details
Object: Terrace in tile optics with stairs in Viersen
Extent: Total area approx. 120 m²
Substrate: Screed
Period: April 2020
Applied: WestWood® Wecryl waterproofing system according to DIN 18531.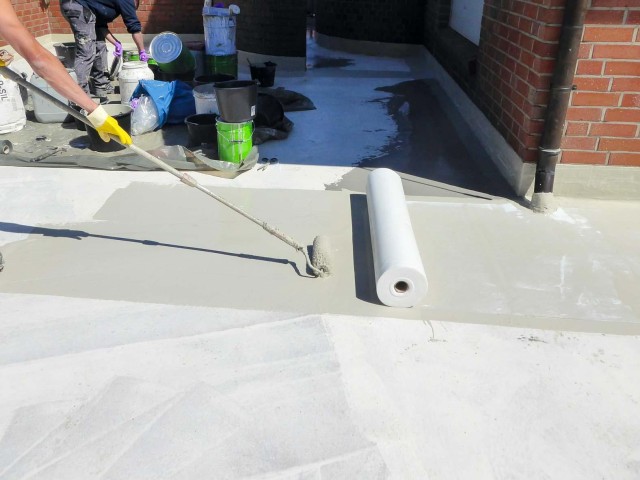 Terrace waterproofing in popular tile design
When a terrace runs around a rounded bay window and an equally rounded wall surround paves the way to the garden stairs, the use of a PMMA system makes the renovation of the outdoor area much easier: Cutting work is eliminated and the secure detailed sealing is provided with fleece reinforcement without seams or joints. Thus, for the renovation of the terrace and stairs, the client relied on the Wecryl waterproofing system in accordance with DIN 18531 from WestWood®, with which even the popular tile decor is possible. The specialist installers removed the previous covering and prepared the screed for the PMMA system. On top of the Wecryl 176 priming resin, they applied the surface waterproofing with a fleece reinforcement. For the detail joints, they used the waterproofing resin Wecryl R 230 thix, also with fleece, before two finish coats in different colors were applied to the protective layer of flow mortar Wecryl 333 to create the tile look.